I Found My Laptop through I-Ching!
I lost my laptop recently while paying for my groceries at the supermarket's self check-out kiosk. Took my groceries and bag but completely forgotten about my cold burger that was lying there quietly. Thanks to Mercury Retrograde! This was in the late evening and I only realised it at 11pm. I called up the supermarket to see if I could find some kind souls who would direct me to the lost and found. After a few tries, I did not manage to speak to anyone who could help me. I decided to relax and chill for the rest of the night since there was nothing I could do at that hour.
I tried calling again the next day, this time I managed to speak to someone but her reply to me was a disappointing one. Not wanting to trust her reply, I turned to my best friend I-Ching for help! I raised a hexagram with the time that was shown on my digital clock 1232. And this is what it said to me: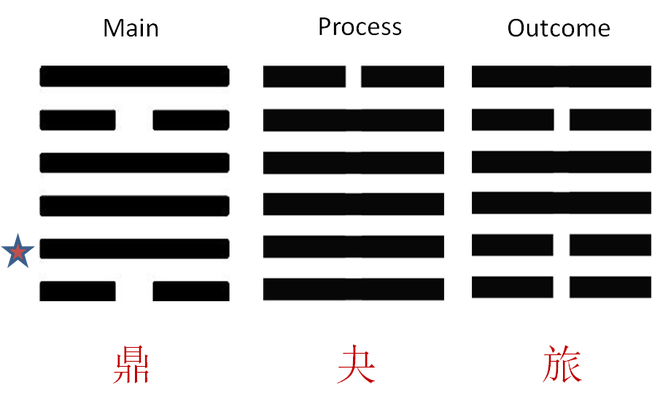 The main hexagram comprised of 离Li fire trigram and 巽Xun wood trigrams which correctly describe the place where I left my laptop – on a stand.
The process hexagram comprised of 兑Dui metal and 乾Qian metal trigrams which indicated ineffective communication with the broken line which denoted a mouth and also an imperfection.
The outcome hexagram is the most critical hexagram which will indicate whether I will find my laptop. The hexagram comprised of 离Li fire and 艮Gen earth trigrams. The 离Li Trigram represented the light, woman, red or purple color, eyes etc. The 艮Gen trigram represented a storage or a property. And since it was also an image of a mountain, this also indicated a young man or a plump looking person.
Upon seeing this outcome hexagram which indicated that it was in the light and still in the building. I became confident that the laptop could be found. I made my trip to the supermarket, told the staff about my lost and she immediately pointed me to a woman who is plump, dressed in a purple top with big round eyes! Yes, she fitted the description of the outcome hexagram. She asked me to wait and a few minutes later she came running to me with my laptop!
I-Ching is a wonderful tool if you know how to use it. It's fun, interesting and very easy to learn. Join me this May, discover how you can solve mysteries and gain confidence in decisions making process.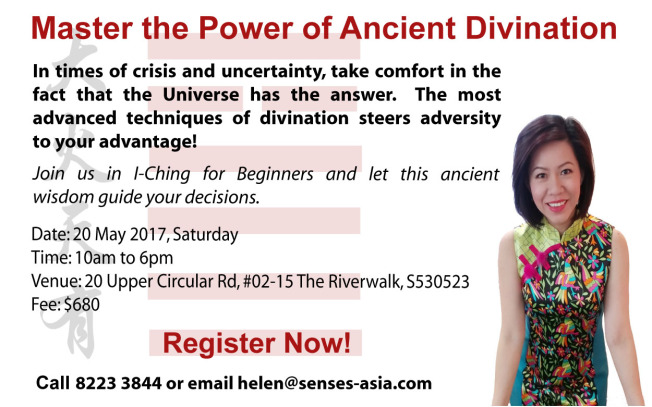 Enjoy early bird rate at $600 when you register and pay by 14 May 2017. For more enquiries and registration, whatsapp Sue at 91800985.
See you in the class!